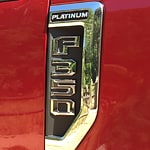 For work or play, if you have to pull a trailer or carry a big load, the Super Duty is for you. No matter where you have to go, Ford can get you there. The Super Duty has 20 million miles of testing to prove it. Extreme temperatures, gravel, dust, brine, mud baths, and running with intentionally broken parts were no match.
Even the interior is durable with available Vinyl Flooring. The Fully Boxed High-Strength Steel Frame with up to 10 cross members makes it 24 times stiffer than previous models. It also makes for less flexing and twisting for maximum toughness.
Don't forget that the Super Duty is the only truck in its class with a high-strength, military-grade, aluminum-alloy body. That makes it less prone to dings, dents, and rust. The Ford Tough tradition continues as it has for decades. For all-around power and capability, there is no runner up.