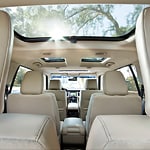 It's easy to understand why the Ford Flex continues to be a popular three-row SUV among active groups and adventurous families. It's huge, capable, safe, and extremely comfortable. Consider the following comfort features our team selected to illustrate.
In addition to its three rows of spacious, plump seats, the Ford Flex offers the option of second-row bucket seats. The seats have a 40/40 split with a huge central pass-through for easy access to the third row. The seats boast power-assistance, and they fold flat into the Ford Flex's floor to enhance available cargo space or third-row legroom.
Liftgates that open and close at the touch of a button never go out of style. The Ford Flex's liftgate responds to the press of a key fob button or to the press of a button inside the cabin. The liftgate swings smoothly up or down, letting you load or retrieve cargo, tools, or kenneled pets without any fuss.