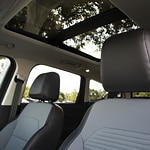 The Ford Escape is a compact Sports Utility Vehicle that combines the smooth ride of a sedan with extra cargo space of a minivan. The Ford Escape is a great vehicle for young drivers or those with small families. It is filled with some amazing technology that will keep you safe as well as make your ride more enjoyable.
First, the Ford Escape offers great safety technology in the Ford CoPilot360. This technology provides forward-collision warnings, emergency braking, BLIS blind-spot monitoring, and lane-departure warnings.
Next, the Ford Escape is outfitted with the Waze Technology program that updates the driver on varying information such as traffic jams, road hazards, and auto accidents that might slow your commute.
Another pertinent amenity in the Ford Escape is the Ford + Alexa offering. This is also voice-activated and hands-free. Simply ask for directions from Alexa, and never take your hands off the steering wheel.