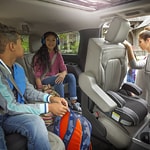 Families love their Ford Expeditions due to the space and comfort that full-size SUVs provide. The trim levels, standard and optional features enable potential owners to customize the vehicles to suit their tastes and needs.
The interior options are many. Go with the basic fabric upholstery and base seating arrangements if desired. But some may prefer to go upscale and choose a model boasting leather upholstery, heated and ventilated seats that are power-adjustable. The steering wheel may also be wrapped in leather and heated.
The elite King Ranch models offer leather seating in addition to leather trim on the door panels and dashboard. The second and third-row seats might also have heating and ventilation features along with being equipped with power folding ability. Venture to our Chico, CA Wittmeier Auto Center location, and see the Ford Expedition in person. Choose the model that suits your desires and go for a test drive.