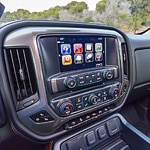 The Chevrolet Silverado has long been a top-seller. Chevy offers prospective owners a choice of cab and bed sizes in addition to providing the truck in five trim levels. The standard technology incorporated into the Silverado 1500 also enables customization and upgrades to ensure optimal function and connectivity with the outside world.
The interior comes with a seven-inch touchscreen on the infotainment system, which may be enlarged to eight inches. Smartphone integration is achieved via Apple CarPlay or Android Auto. As the system accepts voice commands, drivers may take or make calls without having to look away from the road.
Bluetooth connectivity converts the pickup into a Wi-Fi hotspot, which is handy when searching for informative videos or needing to find the location of a specific venue while on the road. See all of the possibilities that come with the Chevrolet Silverado 1500 by seeing the pickups at our Chico, CA Wittmeier Auto Center. Visit and take a test drive.