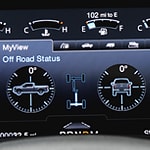 For the latest in high-tech features in a rugged, durable package, the Ford F-150 is the only name to know. This popular pickup truck is on the lot at Wittmeier Auto Center in Chico, CA right now, and our team is excited to tell you all about how its updated connectivity and safety features are sure to make traveling for work or fun a more pleasant experience.
Whether you need to stay in touch, monitor local traffic conditions, or find your way to a destination, you'll appreciate the convenient console touchscreen that's located front and center. The optional 360-degree camera system operates via this same screen to provide an all-around view of your surroundings.
Ford's comprehensive safety package that offers intelligent cruise control, lane-keeping assistance, pre-collision emergency braking, and other helpful features are also available.