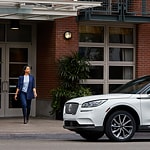 The Lincoln Corsair is one of the most impressive compact luxury SUVs on the road today. That is because of the Corsairs attention to luxury and design. Here are some of the most amazing design features that you can find on the current Corsair SUV model.
When you drive a luxury SUV, you want to make sure that you have one of the most comfortable seats on the road. The Corsair comes through with a concept called perfect position seating. This concept gives you one of the most configurable seats of any luxury vehicle. In fact, the driver's seat has a 24-way power function!
The Lincoln Corsair also takes style to the next level with its floating center console design. With this floating design, the center console looks more elegant and compact while providing you with high quality switches, buttons, displays, and knobs.